Welcome to the exciting world of high stakes poker. Jump right in and let three-time World Series of Poker champ Daniel Negreanu show you the secrets you need to compete with the best – and Win!
Win at Texas Hold em features a clear easy to use interface, challenging tournaments, a versatile gameplay advisor and the most realistic AI
available on the mobile phone!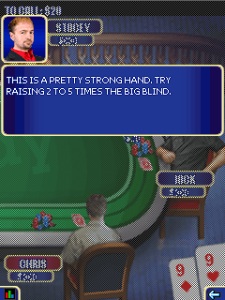 App Name:Negreanu Pro Poker
App Version:0.0.4
App Size:400 KB
Cost:US$4.99 USD
Filed Under: Cards Game Tags: AI, Daniel Negreanu, Texas Hold, World Series Previous Post: Keno- Spin3
Next Post: Baccarat- Spin3