AUTHENTIC CASINO EXPERIENCE
TouchPlay Joker Poker Video Poker offers an authentic casino experience without losing your hard earned money! With realistic payouts for winning hands, authentic graphics and sound and casino like Game play, its like having a casino in your pocket.
HOW FAR CAN YOU TAKE 100 CREDITS?
Start TouchPlay Joker Poker Video Poker with 100 credits and see how far your luck and skill can take you. Play, win, lose, and when the credits are gone, just hit Deal to start over with another 100 credits. Theres no limit on how many times you can restart with 100 credits and when you get your credits up, you have the satisfaction of knowing you started with just 100 credits.
DOUBLE UP YOUR WINNINGS
TouchPlay Joker Poker Video Poker gives you the chance to double your winnings with the Double Up feature. Beat the dealers card and youve doubled what youve won! But beware! If the dealers card is higher than yours, you lose everything youve won. Fun and exciting, Double Up allows you to risk it all for big rewards or big disappointment!
PLAY YOUR WAY
TouchPlay Joker Poker Video Poker can be played your way. Bet from one to five credits, adjust the game speed and mute the sound. Listen to your own music while playing the game using your devices music player. Access on-line help at any time for help with playing TouchPlay Joker Poker Video Poker.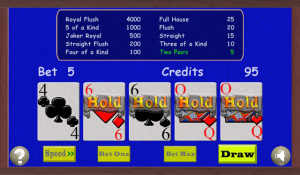 App Name:TouchPlay Joker Poker Video Poker
App Version:1.0.0
App Size:3474 KB
Cost:US$1.99 USD
Filed Under: Cards Game Previous Post: Video Poker
Next Post: Hearts FREE