Have you ever wondered what your local law enforcement is up to? Well if you live in Lynchburg Virginia, you dont need to wonder any longer! This app will launch a scanner feed for the Lynchburg Police, and you can listen right from your BlackBerry!
If you would like a Police Scanner for your local Police or Fire Departments, EMT, or Airport, click the Contact the Developer button at the bottom the this page and let me know! I cant provide scanners for the UK or South Africa.
The scanner feed is provided by RadioReference under a creative commons license.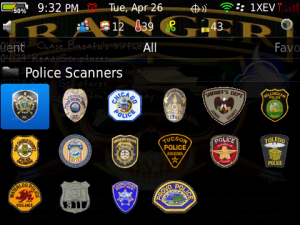 App Name:Lynchburg Virginia Police
App Version:1.0.0
App Size:52 KB
Cost:US$0.99 USD
Filed Under: Audio & Music Tags: Fire Departments, Lynchburg Police, Lynchburg Virginia, Police Scanner Previous Post: Heaven 1460 WXOK
Next Post: Rock 99 WZRR