SPIN South West the MOST Music Station and home of 10 SPIN Hits In A Row. Were always first for new music and the biggest best giveaways! Wake up to Breakfast Expresso with Conor Quaid. Power through your morning on SPIN Hits with Michelle.
Got an opinion? Tell John Muireann on SPIN Talk. Eoghain Fitz has 10 SPIN Hits in a row for your drive home on SPIN Hits.
The Craziest show of the day kicks off at 6.45 the Zoo Crew with Anto Brian…and Ross finishes off the day on The Late Shift.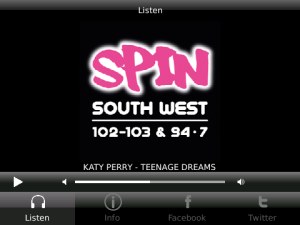 App Name:SPIN South West
App Version:1.0.0
App Size:724 KB
Cost:FREE
Filed Under: Audio & Music Tags: Zoo Crew Previous Post: Save Alternative
Next Post: 1250 WTMA