This is a salute to real MCs. The worlds first true Battle Rap App. Battle rap any user in the world, or just rehearse your rhymes and hone your skills in private. Be a spectator and vote or just talk smack. Made for MCs by an MC Rah Digga brings you Straight Spittin.
Be part of the next revolution in hiphop!
Features:
Unlimited Incoming and Outgoing Battles!
Receive Discounts on Premium Beats
More Picture Uploads
Signing Bonus! Move to Gold Tier Faster!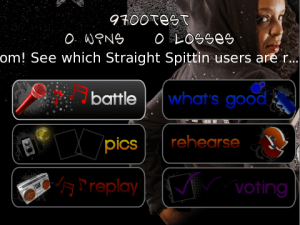 App Name:Straight Spittin Real MC
App Version:1.11.0
App Size:6138 KB
Cost:US$1.99 USD
Filed Under: Audio & Music Tags: Battle Rap App, Straight Spittin Previous Post: Rishi Rich The Best
Next Post: Praise 92.1