The Canadian Oilfield Service & Supply Directory COSSD is Canadas oil and gas directory of choice. With more than 26,000 listings in 1,900 categories the COSSD is your one-stop shop for industry related listings. Search by category, keyword, company name or location 24/7 to find what you need.
Search the COSSD and find contact information for:
Service and Supply Companies
Manufacturers
Drilling Contractors
Pipeline Operators and Contractors
Refineries, Gas Processors, and Petrochemical Companies
Consultants and Engineers
Governments and Associations
Environmental and Waste Management Companies
Visit us at COSSD.com for more information.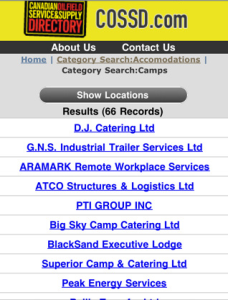 App Name:COSSD Mobile
App Version:1.4.0
App Size:16 KB
Cost:FREE
Filed Under: Business Apps Tags: COSSD, Drilling Contractors, Gas Processors, Petrochemical Companies Previous Post: Suashish Diamonds
Next Post: StealthTip