Do you know that you can extend the phone battery life by 60% if you just follow few simple rules?
As physical exercises strengthen your body, so careful planned charge/discharge cycles will make your BlackBerry battery last longer. deBattGym will do it for you by monitoring every charge and discharge change, and notifying you when its the right time to fully charge the battery. deBattGym also provides a detailed battery status overview, different visual indicators for battery level and complete log of all charging/discharging events !
** Important: ** – This is a special version for OS 5.0. To get deBattGym version compatible with otther OS version, please search for ** odeve ** and select the app from the list.
Features:
* Boost battery life
* Detailed overview of battery status battery level, temperature and voltage
* Full log of all charging/discharging events
* Dynamically updated app icon showing battery level
* Dynamically updated system indicator visible on home screen and in most of the system applications including the browser
* Audible alerts informing you when its time to start charging/discharging your BlackBerry
* One click "Turn On" / "Turn Off"
* Extremely low CPU/memory consumption !
* Straight-forward to install and use
* BES users friendly
* Support for latest OS versions including OS 6.0 – Torch, Curve, Bold and other devices
* FREE support
* 15 days FREE TRIAL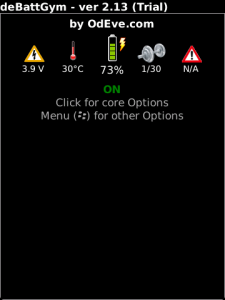 App Name:deBattGym – The Ultimate Battery Gym for OS 5.0
App Version:2.13.33
App Size:100 KB
Cost:US$3.99 USD
Filed Under: Business Apps Tags: BES, CPU, Features Boost, OS Previous Post: Nomad
Next Post: Ez Texting