Download the Rogers Hosted IP Voice app for BlackBerrythe perfect companion to your Hosted IP Voice business phone system. Manage your phone system directly from your BlackBerry and take your business calls, voice messages, and faxesanywhere.
IMPORTANT: Rogers Hosted IP Voice for BlackBerry requires an existing Hosted IP Voice account. Use this app or visit http://rogers.ringcentral/order to create an account and instantly activate your mobile business phone system.
Use the app on your BlackBerry to:
- Show your Rogers Hosted IP Voice business number as your Caller ID when you make calls.
- Keep all your business voicemails and faxes separate from your personal messages.
- See who left a message, forward messages, and tap to return calls with Visual Voicemail.
- Receive, view, and forward Internet faxes.
- View call time, date, and duration, and return calls directly from your Rogers call logs.
- Receive push notifications for incoming messages.
- Access your company extensions as a contact group.
Please Note: Rogers does not recommend nor support the use of this Mobile Application on Tablets.
Get a cloud-based business phone system from Rogers that delivers:
- Local or toll-free numbers including 800, 866, 877 and 888 numbers
- Auto-receptionist
- Multiple extensions
- Advanced call management and answering rules
- Multiple voicemail boxes
- Visual voicemail
- Internet fax
- Music on hold
- Custom greetings
- Call screening
- Call queues
- Dial-by-name directory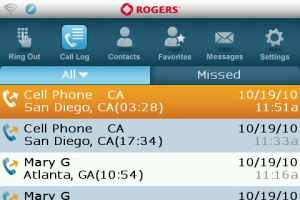 App Name:Rogers Hosted IP Voice
App Version:1.0.0
App Size:994 KB
Cost:FREE
Filed Under: Business Apps Tags: Mobile Application, Please Note Rogers, Visual Voicemail Previous Post: AIAA SPACE
Next Post: LOANS