My First Words Baby Picture Dictionary is an Audio Picture dictionary for toddlers and kids.
Has your child reached the age where its time to introduce new words? This app is a perfect way to teach them!
Each word has a clear Native Audio which reads out the correct pronunciation.
This LITE version is FREE and has only 3 categories open. If your child likes the app you can unlock all words via in app unlock feature or you can buy the full version from the store.
For updating the app , just press the buy button, if your app is unlocked it will unlock it without purchasing the second time.
If the app doesnt work on your device, Please send your device name and OS version to : support@teks.co.in. Request you not to give bad reviews. We will try our best to make it work for your device.
Special Features:
* Over 300+ clear words and photographs;
* The clear audio helps the child repeat the word.
* Fun & engaging voice artist keeps kids engaged
* Slideshow or manual play
* Customize font size
The words are divided in separate categories. The categories include:
Animals
Baby Things
Food
Shapes
Toys
Body Parts
Clothing
Feelings
On Wheels
Colors
Actions
Mommys Purse
Nursery Rhymes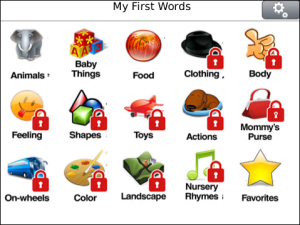 App Name:My First Words Lite Baby Picture Dictionary for Kids and Toddlers
App Version:1.0.1
App Size:2796 KB
Cost:FREE
Filed Under: Education Apps Tags: FREE, Native Audio, OS Previous Post: TU Delft Open Dag App
Next Post: Mark Calculator