Guitar Star turns your BlackBerry PlayBook into the ultimate guitar collection!
The actual sounds of real guitars that you can play any song on your BlackBerry PlayBook
Go unplugged and play your favourite songs on the perfectly tuned acoustic guitar.
Rock out to the classic sounds of an electric or rock guitar. Guitar Star also includes a bass guitar for laying down the beat of a song.
Pluck along to your favourite country/folk/bluegrass tunes with the 5-string banjo or serenade that special someone while playing the ukulele.
Six instruments in one outstanding application. Learn to play all six and youll understand why this application is called Guitar Star!
Perfect for people that are learning to play the guitar and for people that want to play different instruments without the cost and inconvenience of purchasing six instruments.
We hope youll enjoy playing your favourite songs and performing for your friends as you strum and pick along on your PlayBook.
Features the sounds of:
- Acoustic guitar
- Electric guitar
- Rock guitar
- Bass guitar
- 5 string banjo
- Ukulele
If you like Guitar Star, please write a great review. It will help us to keep improving Guitar Star for PlayBook. If you have any problems getting Guitar Star running on your PlayBook, please visit http://support.smarter-apps.com and we will help you to get up, running and making beautiful music.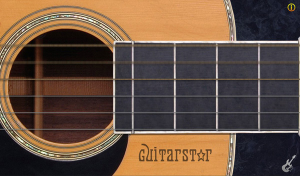 App Name:Guitar Star
App Version:1.2.3
App Size:14894 KB
Cost:US$2.99 USD
Filed Under: Entertainment Apps Tags: Guitar Star, Guitar Star Perfect Previous Post: miniGuru
Next Post: Sketch Effect