HumThum is unique all-in-one mobile app that helps to create business and personal websites through mobile phones. It offers many features including mobile web designing, sharing audio, video, and text, 1D &2D barcode reader, mobile scanner, astrology, currency convertor, share market price quotes with local information about 19338 Indian Pin codes.
HumThum Apps service can broadly divide into four :
My Resources
My Area
My Website
My Members
My Resources
Mobile Scanner-
Mobile Scanner serves the user to use mobile camera as a scanner. User can upload image which will be converted into a PDF. The converted file can be directly downloaded or it can be sent to the users email id.
1-D & 2-D Barcode Reader-
User can decode the bar coded information with given 1D & 2D Barcode Reader.
Learn English-
Learn English serves the purpose of dictionary to the user of HumThum Mobile Apps. It has the abbreviations, phrases, dictionary and thesaurus which you can access on the move.
Currency Converter-
User can convert the currency value of one country to another at the current market exchange rate using HumThum Currency Converter.
Stock Quote
With Stock Quote user can anytime access the current stock market price of the publicly listed companies.
My Website
User can create their own website from mobile and get user.ht.im domain name exclusively for their use. They can edit & update their websites through mobile; they can easily share Photos, Audio, & Videos with their network. They can add members to their personal network group & regroup them. With this social networking is now at its easiest form available exclusively for the users of HumThum.
My Area Services
Specialty of HumThum is to provide more detailed and accurate services to its users of a particular pin code. The services are Maps, News, Classified, Discussion, Events etc. My Area provides the user with detailed information about his area on the move.
News:
Get the real crunch of the hot news and latest updates about your pin code which has been provided by people like you in the same pin code. Now, news will be free from bias and distortion because real people like you will write it. This will be the perfect platform for Citizen Journalism. What are you waiting for? Just sign up and get going!
Events:
At every go of life HumThum users get updated with the events happening in their pin code whose entry is made by the people in the same pin code. Through Events you will always be aware of the current news and events of your area.
Offers:
Buy/Sell:
In this segment you can post advertisements for buying and selling things in your area. It will be different from all other available services because here the interaction will be much more convenient as you will be dealing with people from your neighbourhood and they are just a phone call away may be! So, make the most of it and grab a deal today!
Rent:
Here you can experience the ultimate luxury of getting information at a click away by passing all the middle men in case you want to avail for a rented service. You can easily without any hassle get to know about houses, cars, or any other service up for rent for that matter.
Discussion:
HumThum provides unique opportunity to the users to discuss, analyze and find solution for issues concerned to their area.
My Members
Humthum helps users to create private groups and share Audio , Video , Text contents among its members . Users can add or remove friends. It will be tightly closed network to share important documents with in Group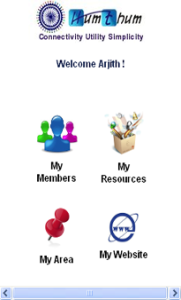 App Name:HumThum
App Version:1.0.0
App Size:35 KB
Cost:FREE
Filed Under: Entertainment Apps Tags: Citizen Journalism, Currency Converter User, Indian Pin, PDF Previous Post: 1500 Ringtones Unlimited
Next Post: Mobile Strobelight