More than 700 redneck jokes. You might be a redneck if….
Features
–Three categories from Wives to Lifestyles
–Random joke comes up every time you open or hit a new menu selection
These jokes are meant solely for entertainment purposes, and are not intended to be insensitive, callous, or offensive, or to otherwise belittle anyones plight. All names and descriptions of people are fictitious except for those of well-known public figures, who are the subject of satire. Any resemblance to actual persons or events is purely coincidental.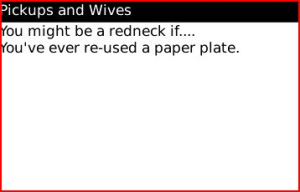 App Name:Redneck Jokes
App Version:1.0.0
App Size:109 KB
Cost:US$2.99 USD
Filed Under: Entertainment Apps Tags: Features Three Previous Post: NEON SILVER desktop Clock
Next Post: REDSOUL HQ desktop clock