Official Application of Rockampeonato Telcel 2010 tournament. Get the last news, music, win prizes, share pictures in Facebook and Twitter. Find other fans an venues. Characteristics:
Bands. Read about the bands, be a fan
Agenda. Look for dates and concert places
Eliminatory. Bands position table
Rockaround. Look for venues and fans in the map and chat with them.
Promotions. Win prizes and concerts entrance
Comments. Share your comments about the concerts, you can win an entrance to the final.
News. Look for the official news of tournament
Photos. Share Rockampeonato photos in twitter and facebook
AVAILABLE ONLY IN SPANISH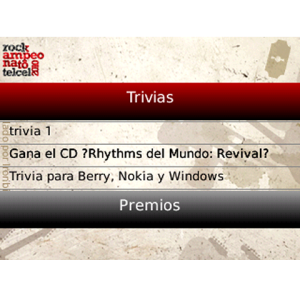 App Name:Rockampeonato
App Version:1.3.0
App Size:3205 KB
Cost:FREE
Filed Under: Entertainment Apps Tags: Characteristics Bands, Share Rockampeonato Previous Post: Pocket Massager
Next Post: Bypass Geneve