*** App contains Korean and English ***
Blue provides the fastest, smartest way to view real-time prices from financial markets around the world, for free.
View more than 2 million instruments from 162 exchanges – local, regional and global, with breaking business and company-specific news, plus all major Stock Market indices.
Look what others are saying:
Fantastic free app!!!
..am absolutely hooked on it..
Best app on my 9700
..a notch up from the Bloomberg app because of the charts time scalability
..you will find yourself using it all of the time..
..no going back to delayed for me..
..an instant classic appand Game changer in mobile trading..
I havent seen and financial market app as in-depth and easy to view, EVER!
With a highly intuitive interface, key features include:
Shortcut Keys One click access to your most widely used screens
Charts View bar, line and candlestick charts
Watch Lists Create as many Watch Lists as you like
Quick Quote Open snapshot quotes
Portfolio Manager Track the value of your portfolio tick-by-tick
Price Alerts Receive pop-up messages and e-mails as pre-defined alerts are triggered
News Alerts Receive e-mails when news breaks on your favourite symbols
Streaming/Snapshot modes Select to stream prices directly to your handset, or switch to snapshot mode when roaming
News Select your feeds based on your region; e-mail stories to friends and view historic news for specific dates direct from charts
Help Screen-by-screen user guide, detailed tutorials and 24/7 access to our customer support team via e-mail
Blue Store Upgrade delayed exchanges to real-time
Find out more from www.jsmwireless.com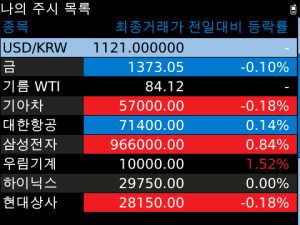 App Name:Blue -한국어
App Version:3.4.0
App Size:1236 KB
Cost:FREE
Filed Under: Finance Apps Tags: Help Screen, News Select, Store Upgrade, Streaming Snapshot Previous Post: ExpenseManager
Next Post: Michelle Kirkendall's Mortgage Calculator