Debra Klosterman Catalanos Mortgage Calculator gives you instant access to discover your monthly payment on any house. This easy-to-use calculator will tell you the exact monthly payment of a home based on:
Loan Amount
Interest Rate
Term
Mortgage Insurance
Property Taxes
Home Owners Insurance
and now includes an optional second mortgage calculation
Never again will you have to guess your monthly payment when youre shopping for homes because you can calculate your payment on the spoteven if youre in the house you might want to buy! This calculator gives you the confidence you need to make a decision on the affordability of any house.
Not only that but
This calculator app gives you access to Debra Klosterman Catalano via phone, email, or the web. Youll never be alone in the home-buying process again because youll have your own real estate professional in your front pocket at all times!
Download this app now to eliminate uncertainty that surrounds buying a home and pin point your monthly payment with laser-like focus.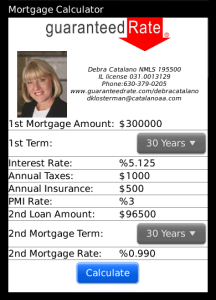 App Name:Debra Klosterman Catalano Mortgage Calc
App Version:2.0.0
App Size:749 KB
Cost:FREE
Filed Under: Finance Apps Tags: Debra Klosterman Catalano, Interest Rate, Loan Amount, Mortgage Insurance Previous Post: Canada Guaranty
Next Post: Debt Rescue 911