BlackBerry App for NBDs Mobile Banking Service! All your mobile banking services at your fingertips, on the go!
Your bank accounts are now right in the palm of your hand with NBDs MoBanking. Take your Bank to work, to the beach, on vacation or just about anywhere. Say goodbye to lines and hello to whole new and convenient way of banking.
MoBanking is simple and secure. You can bank on your terms: where you want to; when you want to. Its easy and accessible.
With just a quick text you can:
* Access balance information
* Pay your bills
* Transfer funds between accounts
* Check account activities
* Set up alerts
* Pay-a-buddy via Text or Online
Please note: You must first contact National Bank of Dominica Ltd. to obtain a user ID and password to access mobile banking. Without a user ID and password, you will be unable to sign in with this application. Visit our website at http://www.nbdominica.com/mobile/ or stop by one of our branches for more information and to sign up!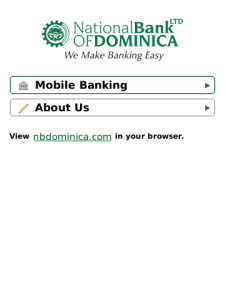 App Name:National Bank of Dominica
App Version:1.0.0
App Size:136 KB
Cost:FREE
Filed Under: Finance Apps Tags: Dominica, ID Previous Post: Meta bTrader
Next Post: Barings Fund Prices