Preparation study guide for Medical Transcription MT certification exams.
This study guide app helps prepare you for a position as a medical transcription MT professional and for the AHDI Certified Medical Transcriptionist CMT and Registered Medical Transcriptionist RMT exams.
The medical terminology modules of the app give you practice for elements of medical acronyms, abbreviations, anatomy, pathology, conditions and diseases. The MT prep app gives you necessary practice skills to converts the spoken medical word to the written word, thereby creating patient medical records. The MTs records are legal documents subject to subpoena, and the MT prep app will assist you to perform to a high standard of accuracy.
Your knowledge of Health Care Record Maintenance; Physiology; Radiology; Surgery; Anesthesiology; Medical Law & Issues; along with your English grammar, punctuation, and sentence structure will be improved through this study guide app.
Includes more than 1500 multiple choice quiz questions and 1500 flashcards. Includes glossary with common terms and definitions in fifteen 15 learning modules.
Medical Acronyms
English Grammar Rules
Health Care Record Maintenance
Anatomy
Pathology
Physiology
Medical Conditions & Diseases
Radiology Fundamentals
Surgery
Medicines and Drugs
Anesthesiology
Lab Tests & Results
Hospital Management
Medical Abbreviations
Medical Law & Issues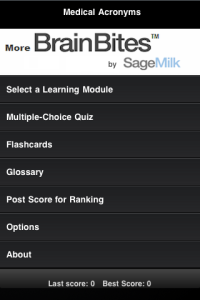 App Name:650 Medical Transcription Certification Quiz Questions
App Version:2.0.0
App Size:1308 KB
Cost:US$1.99 USD
Filed Under: Health & Wellness Tags: Hospital Management, Medical Abbreviations, Medical Law Issues, MT Previous Post: Med Tracker
Next Post: A to Z Drugs A2ZDrugs