!!! Application available on BlackBerry PlayBook !!!
Presenting a premier collection of physical yogic exercises to remain fit and healthy, which will help you cure and avoid common diseases.
Exercises are classified according to common diseases. Exercises are illustrated with animated video, pictures, description and mediating music of your choice.
Exercises are classified on following diseases.
A. Burns excess fat
B. Constipation
C. Indigestion
D. Diabetes
E. Chronic cold & cough
F. Bronchial asthma
G. Ailments of back, neck & waist
H. Spondylitis Spine
I. Menstrual Disorders
J. Sciatica pain
K. Heart Disease
L. Knee, Ankle joint pain
M. High Blood Pressure
N. Low Blood Pressure
O. Acidity
P. Piles
Q. Renal Calculi
R. Appendicitis
S. Headache
T. Tonsillitis
U. Arthritis
Fitness Panacea is a comprehensive database of exercises to aid cure by simple exercises. Application is suitable for all age groups.
Application is recommended for everyone. Little conscious efforts will bring in good results.
For help and suggestion contact us at support@dawnsuntech.com
Legal Disclaimer: Via this Fitness Panacea application, here we are simply presenting a collection of some easy-to-do physical yogic exercises to cure common illness. These exercises are suggested for specific illness, which may or may not help your physical condition. Never disregard professional medical advice from your physician or health care provider. Please consult a health care professional before attempting any of these suggested exercises. In case of emergency medical situations users are requested to contact emergency response 911 or consult with your physician.
If you like this app, compliment artist by giving sincere reviews.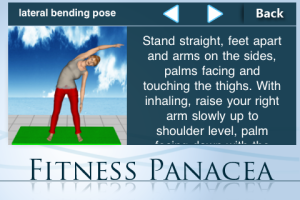 App Name:A Yoga Cure
App Version:3.0.0
App Size:2689 KB
Cost:US$2.99 USD
Filed Under: Health & Wellness Tags: Arthritis Fitness Panacea Previous Post: St. Mary's Medical Center
Next Post: Swim Trainer — Be a professional swimmer