Just at 0.99 dollars for a limited time! Buy it now & follow us on twitter for exclusive offers!
A new baby is like the beginning of all things – Wonder, Hope, dream of possibilities!
The parents will have an awesome feeling when a baby is born!
Babies are very sensitive. One needs to keep utmost care about babys health.
Its difficult to identify sometimes about any problem your baby has. So, here, we bring you the application which can help you in taking care of your baby!
Baby Doctor application is very useful as it gives information about various topics of babys health.
The application is divided into four basic modules:
Tips
Health
Vaccines
Milestones
The information provided in the application can guide you in taking care of your baby.
The app may not function properly in landscape mode. We will update it in the next version!
Disclaimer:
Please remember that this information is for your guidance only and is not exhaustive. Please consult your doctor or pediatrician if you have any concerns about your babys health.
Extensive effort has been exerted to make the application as accurate as possible. However, the accuracy & completeness of the information provided cannot be guaranteed.
Follow us on Twitter: twitter.com/IntellectD
Please let us know in twitter or send us a mail if you are facing any issues with our products. We would love to help you out.
If you find our Baby Doctor helpful, please post a review in BlackBerry Appworld.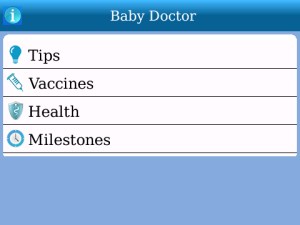 App Name:Baby Doctor
App Version:1.0.0
App Size:272 KB
Cost:US$0.99 USD
Filed Under: Health & Wellness Tags: Baby Doctor, Disclaimer Please Previous Post: Healthy Delicious
Next Post: Easy Weight Loss