Gazelle is more than a mobile health app. Through essential health information you can see, store, and share, Gazelle helps you take control of your health. Get fast access to:
*Get and understand your Quest Diagnostics lab results on the go*
*Share your information via email or fax
*Have your health information available in case of emergency
*Schedule and receive medication reminders right on your phone
*Schedule your next lab appointment and find the nearest location
Get Gazelle, the latest innovation from Quest Diagnostics, the worlds leading provider of diagnostic testing services.
Visit gazelleapp.com to learn more, see Gazelle in action and download this app.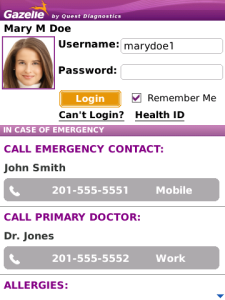 App Name:Gazelle
App Version:2011.2.0
App Size:671 KB
Cost:FREE
Filed Under: Health & Wellness Tags: Quest Diagnostics Previous Post: Neonatal Nurse
Next Post: 200 Situps