At home, at work or on the go, Healthanywheres wellness promotion and chronic disease management solutions ensure that consumers, healthcare professionals, and administrators are kept up-to-date with accurate patient health data. Healthanywheres various product platforms communicate with a variety of wireless medical devices while sending and receiving information in real time to and from the Healthanywhere Web-Portal. Healthanywhere utilizes Bluetooth-enabled monitoring devices and innovative software-based solutions installed on a variety of Smartphones, as well as on other PC based platforms. Our solutions ensure increased compliance, greater accuracy, and privacy protection, while providing integration of patient data into the Electronic Health Record. Healthanywhere solutions include capabilities such as; generic or customized care plans; vital sign monitoring; medication information and reminders; general reminders; questionnaires; exercise plans; nutrition plans, and educational materials including video content.
For the person on the go, a family member, caregiver, and the patient at home, Healthanywhere solutions can greatly increase their quality of life, independence, peace of mind, general wellness knowledge, chronic disease management, and overall levels of health and fitness. The variety of Healthanywhere platforms available allow for solutions that meet the various needs and requirements of each individuals health condition. Healthcare providers utilizing Healthanywhere solutions realize greater efficiencies and reduced costs through remote monitoring, alert based interventions, paperless charting, decreased nursing visits, and tracking of patient outcomes, while early intervention may lead to reduced hospitalizations and ER visits.
Features :
Stay in touch with your healthcare professional whether at home or on the go
Personal Health Management device that fits in your pocket
Large screen with simple to use mobile interface
Wireless medical devices included for ease of monitoring
Designed to meet your active lifestyle.
Record physiological information :
Blood pressure measurements
Pulse rate measurements
Body weight measurements
Blood glucose levels
Body temperature measurements
Blood oxygen saturation %SpO2 levels
Pedometer steps.
Benefits :
Improved wellness with better medication compliance and guidance on diet and exercise
Increased sense of security and independence for the healthcare consumer
Affordable solution that complements on-site nursing care with eVisits
Fewer visits to ER and hospitalizations with proactive monitoring and timely nurse intervention
Reduced stress on caregivers.
Awards :
Grant funding by the Ontario Ministry of Health and the North Simcoe Muskoka Local Health Integrated Network under the Aging at Home Program
Preferred vendor status from the Alberta Ministry of Health.
******* IMPORTANT ********:
We DONT provide credentials for Demo purposes for THIS specific version for NON "South Shore Home Health Services" patients.
This version of application was specifically designed for our client : "South Shore Home Health Services" and requires an authorized access.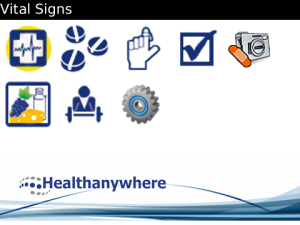 App Name:Health on the Go for South Shore Home Health Services
App Version:2.4.1
App Size:1486 KB
Cost:FREE
Filed Under: Health & Wellness Tags: Electronic Health Record, ER, Personal Health Management, Web Portal Previous Post: Eat Healthy
Next Post: NatureSound Animals – relaxing nature sounds