Journal Watch is a physicians first source for the latest medical news, research, and guidelines that affect patient care. JWatch Gastroenterology delivers summaries of and commentary on key medical research, selected and written by practicing clinicians, to save you time while enhancing your knowledge. This latest update is based on the 2010 print edition with additional features, enhanced functionality and ongoing updates.
- Journal Watch physician-authors survey more than 30 general and specialty medical journals in the field of gastroenterology
- Timely, authoritative, and independent summaries are presented with a clinical perspective
- New summaries are delivered to you weekly
- Easy-to-navigate index of key medical terms
- From the publishers of the New England Journal of Medicine
This Skyscape trusted resource was created in partnership with Massachusetts Medical Society.
Content updates for 12 months and 90 days phone support chat and email for a year are included with your purchase.
DISCLAIMER: This application is for medical professionals. In case of a medical emergency, call your local emergency response number. Consult your physician before making medical decisions.
ABOUT SKYSCAPE on BlackBerry
This app will install your new resource into the Skyscape Medical Resources environment. All Skyscape titles over 500 of them, for all professions and specialties and services like MedAlert and CME-STAT are accessed from within this environment.
Using our award winning technologies, including the patented SmartLink, Skyscape coordinates resources for drug information, interactions, clinical information, calculators, tools, clinical trial and research updates. We provide a single point of entry and seamless integration of resources, providing the best user experience for point of care decision support and research needs.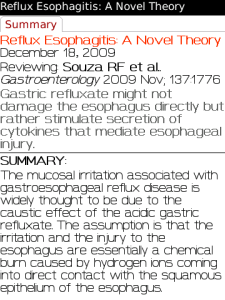 App Name:Journal Watch Gastroenterology
App Version:1.0.0
App Size:193 KB
Cost:US$59.99 USD
Filed Under: Health & Wellness Tags: Journal Watch, Massachusetts Medical Society, Skyscape Medical Resources Previous Post: IASLC Staging Atlas French Lite
Next Post: Oxford Handbook of Urology – Second Edition