From the makers of top yoga apps for BlackBerry, here comes an all different app called Surya Namaskar.
This application shows how to perform Surya Namaskar, a form of yoga to offer the prayers to Sun.
Surya Namaskar means Salute to the Sun.
This is a practice which is done through a sequence of movements & poses practiced as physical exercise in various styles.
It is a daily morning ritual by many people in India.
Surya Namaskar is performed as praising and prayers to Lord Sun for rewarding good health and prosperous life.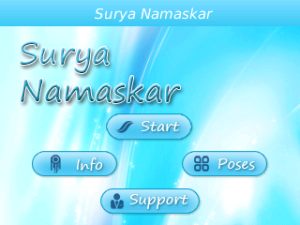 App Name:Surya Namaskar for weight loss
App Version:1.0.0
App Size:1924 KB
Cost:US$2.99 USD
Filed Under: Health & Wellness Tags: India, Lord Sun, Surya Namaskar Previous Post: QuantiaMD
Next Post: Walgreens