Important :
After installation, make sure you give all permissions to Auto Track by going to Options Applications Find Auto Track in Third Party and set permissions on Auto Track to Allow
Auto Track a BlackBerry Tracking Application which allows you to track your BlackBerry, record the location and share your location with your family and friend.
Start running the Auto Track application and it will begin recording and sending your location coordinates that it gathered via GPS to the Auto Track servers. This application, when running, will periodically send the phones GPS coordinates to Auto Track servers.
You can share your last track to your Facebook or Twitter. And if you want your family or friends to know where you are, you can give them your History link.
If you are going to monitor a teen driver, to monitor workers while they operate company vehicles, or just to get a better picture of where you have been or are at in the world then Auto Track should be a very strong candidate for your GPS tracking needs.
Download the Auto Track Application now and let other know about your position in the world!
Features:
Track BlackBerry periodically
Record the Location
View the Location on a Map
View the History of Location Date and Time, Location and View Map
Share your Last Track to Facebook or Twitter
Share your History Link to Family and Friends.
Note:
1. Your mobile service provider will charge you for those services that it provides, which are related to the Auto Track services. You should check with your carrier to learn about such charges.
2. You must understand when You start this application, Your location will be sent to Auto Track server. And Your location can be tracked.
3. This application depends on GPS signals to get the location coordinate, and usually Handset can not get GPS Signal inside the Building.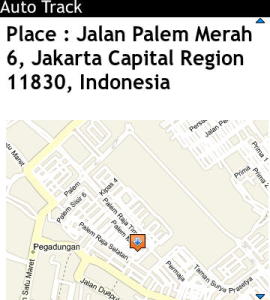 App Name:Auto Track
App Version:1.0.3
App Size:34 KB
Cost:FREE
Filed Under: Maps & Navigation Tags: Auto Track, Auto Track Application, GPS, Third Party Previous Post: GPS Find
Next Post: TrueSpeed