GARMAP FOR MOBILE ONLINE
24 Month Navigation license.
Garmap for Mobile Online is the ideal navigation solution for GPScapable BlackBerry smart phones.
Rich content and value added services transform your BlackBerry into much more than just a navigation tool.
With Online navigation users enjoy:
&61555; 3D maps and turnbyturn voice prompts guide you to your destination
&61555; Live traffic alerts will show you where to expect delays, from traffic congestion to broken down
vehicles, faulty traffic lights and accidents
&61555; Wikipedia search
&61555; Share locations and routes via SMS, Twitter and Facebook
&61555; Avoid speeding fines with FREE speed camera alerts
&61555; Create trip reports quickly and easily, no more paper logbooks
&61555; Automatic updates of the latest map data
&61555; From the online portal you can:
o View live traffic reports
o Plan trips with detailed map views and get turnby turndirections.
o You can also save this route plan, email it to a friend or print it
o Search for local hotels and restaurants etc
o Download trip reports in Excel or PDF format
o Online search and route planning.
o Dynamic synchronisation of saved locations
Visit www.garmapmobile.co.za/online for more information.
Network coverage dependant and data charges may apply
Requires subscription. Traffic available in South Africa only in major metropolitan areas.
If you do not wish to purchase via credit card, please email us mobile@garmap.co.za and we will provide you with alternative payment options. Please specify the subscription period you desire 1,3,12 or 24 months in your email.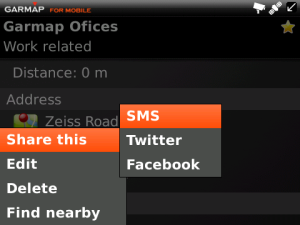 App Name:Garmap for Mobile Premium Nav 24 Month
App Version:4.0.0
App Size:1286 KB
Cost:US$59.99 USD
Filed Under: Maps & Navigation Tags: Mobile Online, Month Navigation, PDF, South Africa Previous Post: CacheSense
Next Post: VQ CarFinder – Car Finder