Version 1.0.19:
Popup when Glympse is received
Reply to Glympse option
Paste whole URL option, not just Glympse code
Several bug fixes
Glympse is the easy way to safely share your location in realtime. No Signup. Just send a Glympse to anyone via email, Text, Twitter, or Facebook.
Glympse: The Coolest Thing Your Smartphone Can Do
Since smartphones first made Google maps mobile, no single application has offered so much practical functionality. Fast Company
Your friends will be able to see your exact location in realtime, but only for the period of time you say. After that, it automatically shuts off, plus you can shut if off immediately at anytime if you want.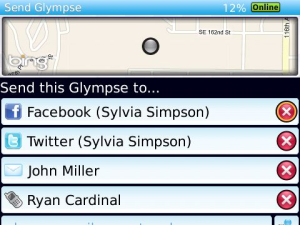 App Name:Glympse
App Version:1.0.20
App Size:1198 KB
Cost:FREE
Filed Under: Maps & Navigation Tags: No Signup, URL Previous Post: UbiNav Polska
Next Post: Compass Pro