Record tracks of your trips anywhere on the Earth from your BlackBerry.
Share GPS tracks and geotagged photos with friends via email, IM or by posting them to social networks like Facebook, MySpace, Twitter and Blogger.
Let your friends see your instant position on a map!
Benefits of Pro version:
1. New! Photo attaching and management directly in mobile application.
2. SOS button for instant position alerts over SMS or email. Wherever you are you can instantly notify your friends or relatives about your current position via SMS or email. They will receive a link to the page with your position on a map.
3. Live tracking with small time intervals up to 3 seconds . If you want to share your realtime position this feature is for you. GPSed Pro can work over TCP/IP, that allows to update your position during tracking really often and minimize mobile traffic consumptions.
4. Firstpriority technical support.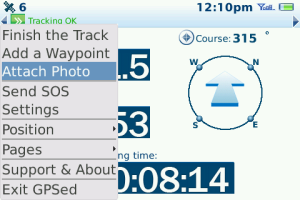 App Name:GPSed Pro Track and Map Your Trips
App Version:2.0.1
App Size:451 KB
Cost:US$9.99 USD
Filed Under: Maps & Navigation Tags: IM, New Photo, SMS, SOS Previous Post: Guiame Movistar
Next Post: World Places Lite