Chicago Traffic Tracker is your OneTap App for live traffic information that is always accurate fast and free.
The app determines your location and delivers a live traffic map showing backups and jams in your area. Drag and move the interactive map as needed to quickly and easily see how traffic is stacking up for your trip or commute.
Dont mess with slowloading and confusing traffic cameras. There is no need to weed through page after page of text and nonsense. Just load the map, see the jams its just that easy.
The GPS functionality of the Chicago Traffic Tracker gives you live traffic information for wherever you are at this moment even if you are outside of Chicago or even the state of Illinois.
In addition, we have included GPS targeted weather conditions/forecasts/alerts so you will know what to expect before you hit the road.
With Chicago Traffic Tracker you get:
GPS targeted traffic for your location
Tips on the best gas prices in Chicago and the suburbs
CTA information and alerts
GPS targeted weather conditions/forecast/alerts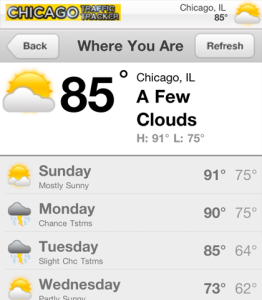 App Name:Chicago Traffic Tracker
App Version:2.0.0
App Size:579 KB
Cost:FREE
Filed Under: News & Magazines Tags: Chicago Traffic Tracker, CTA, GPS Previous Post: Oshawa This Week
Next Post: Crains Chicago Daily News