The Clovis News Journal app is a musthave mobile app for those living, working and enjoying all the Clovis, NM area has to offer. Stay connected wherever you go with the official companion to the Clovis News Journal, the daily newspaper for the Clovis, NM area.
Get highquality news around the clock from our trusted writers. Access local news stories plus, photos, videos and much more. Simple design helps you find content quickly and easily. Share stories through Email, Facebook and Twitter.
If you like our app spread the word to friends on Facebook and Twitter. The Clovis News Journal is an adsupported app.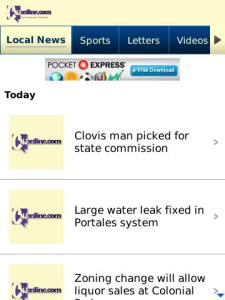 App Name:Clovis News Journal
App Version:3.1.3
App Size:641 KB
Cost:FREE
Filed Under: News & Magazines Tags: Clovis News Journal, NM Previous Post: NPR Station Finder
Next Post: Urgent Communications