Add the power of Jamaicas most reliable 24/7 source for news and information to your BlackBerry handset. The Jamaica Observer BlackBerry Application offers news from across the island and comprehensive coverage of everything from sport to business to entertainment.
All that 24/7 information you are used to via our newspaper, website and mobile site is now simplified for convenient browsing via your BlackBerry handset.
Troubleshooting tips:
If you have problems upgrading your Jamaica Observer BlackBerry App, please try deleting and reinstalling the app.
Run icon not visible in BlackBerry App World if you cannot see the run button after downloading the Jamaica Observer BlackBerry App, instead try launching it from your downloads folder on the desktop of your BlackBerry handset. Should it be missing then select the show all option to view it.
Application runs but does not display data click the Options icon on your BlackBerry menu. From here, click the Security Options icon and the Firewall icon to reset the firewall on your BlackBerry handset. Again, click the Options icon. From here, click the Options icon, then the Advanced Options and then Applications. Then click Jamaica Observer, then Edit Permissions to change the required application permissions to Allow.
Supported BlackBerry devices: OS 4.7 or greater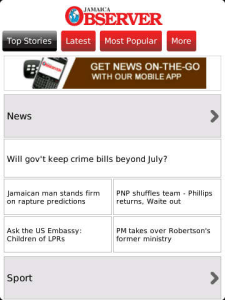 App Name:Jamaica Observer
App Version:1.42.0
App Size:255 KB
Cost:FREE
Filed Under: News & Magazines Tags: Advanced Options, Edit Permissions, Jamaica Observer, Security Options Previous Post: The Sounder
Next Post: El Espectador