This app is only available in French. Economic, financial, stock, investments, management and business news. Be uptodate with the latest news from lesaffaires.com on your BlackBerry. It is free!
Latest news: It is delivered in real time directly to your device.
Access anywhere, anytime: You don?t need to be connected to a wireless network to read articles.
Interactive and easy to use: Forward articles to your contacts and write to the authors.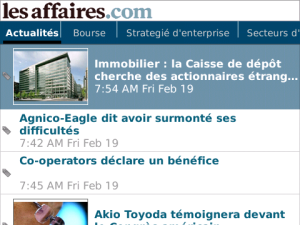 App Name:LesAffaires
App Version:3.0.4.2
App Size:534 KB
Cost:FREE
Filed Under: News & Magazines Previous Post: TheMarker
Next Post: Milton Canadian Champion