Winner Regional selection for the BlackBerry Super Apps Challenge 2010
Radical Draw was specifically design for BlackBerry touch screen devices. A fusion of art and function with stunning custom graphics and custom buttons. Radical Draw is also available for trackpad/trackball BlackBerrys with a screen resolution of 480 x 360.
Radical Draw is a powerful drawing/photo editing application that can be used to crop or rotate pictures, edit brightness and contrast, draw on photographs or to create your own pictures. Even if you have no artistic abilities, you can still look like a professional by using Radical Draws clip art, or our text tool to add titles to your photographs.
Last time we checked, this is the only BlackBerry application that supports editing full resolution 5.0 MP pictures.
Draw lines, lines with arrowheads, shapes, or text
Draw measurement lines with text OS 6.x and higher
Supports pinch zoom Touch screen, OS 6.x and higher
Select different colors and line weights
Includes clip art to help those without artistic abilities create professional looking pictures.
Access to over 30,000 pieces of clip art on the internet. Open any clip art or picture compatible with the BlackBerry Storm and insert it as clip art.
Includes Search Internet clip art button OS 6.x and higher
Rotate Pictures
Crop Pictures
Email pictures directly from Radical Draw
Edit full resolution 5.0 MP pictures
File Open screens include thumbnails, Delete, Rename, and New Folder functions. OS 5.0.0.607 and newerOS 6.0.0.565 and newer
We are working on more clip art packages and will be releasing them on app world. Custom clip art packages are also available. Please contact support for a quote.
An excellent tool for personal use or for professionals like architects, insurance companies, or emergency personnel.
Purchase a work of art to make your work of art, buy Radical Draw!
BlackBerry , RIM, and BlackBerryare registered Trademarks of Research in Motion Limited.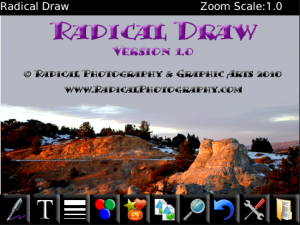 App Name:Radical Draw with Photo Editing
App Version:1.8.0
App Size:2498 KB
Cost:US$7.99 USD
Filed Under: Photo and Video Tags: File Open, New Folder, OS, Radical Draw Previous Post: PhotoClub with Typical BIG Eyeglasses Frame
Next Post: 10000+ Best Wallpapers for BlackBerry PlayBook