FourPlay is the best experience of foursquare on the BlackBerry PlayBook.
BIG update
Fully redesigned UI to enhance the look, feel and usability of the app
Home Screen
Full Screen photo viewing of photos from your friends check ins
Badges popup now more streamlined hide popup by clicking the badges button again
Time stamp added to each check in so you know how long ago that checkin was
New menu options, from left to right: Checkin, Venues, Explore, Specials, Me leaderboard/profile
Venue Screen
The venue screen has been redesigned to give you a much better look at the venue information
View venue photos in a full screen view like the photos on the home screen
View all tips and todos for the venue
See who the mayor is and how many times they have checked in there
See all specials that the venue is currently offering
Explore Screen
Full implementation of the new Explore API from foursquare
The only BlackBerry client to have these features even the offical BB client doesnt :
Search recommendations by category Food, AE, Shops, Drinks, Coffee
Set the radius of your search up to 25 miles.
Set who foursquare should use to make its recommendation… Everyone, your friends or just your check ins
Also can search by any phrase for type of place like theme Park, Pizza, Japanese food, etc
See information about the venue that they are recommending to you
See the top tip from the venue
Shows why foursquare recommended that you go to this venue
Specials Screen
This one is simple. Shows you all the specials nearby your location, what type of special it is, if it is unlocked or how you can unlock it.
Me/Leaderboard Screen
Complete leaderboard display.
See how you rank against your friends and how much more you should be checking in
See your weekly progress in points towards your max weekly point total
Shows your full profile, check ins, mayorships, friends and how many brands you are following.
Shows all of your badges in a visually pleasing grid mode
See all of your pending friend requests and approve or deny them one by one.
With FourPlay users can:
Use either GPS or manually enter location
Check in to their favorite venues
Add a photo to their check in
Access their friends recent check in stream
View and leave comments on check ins
View pictures their friends have included with check ins
View information about the venue their friend just checked into, complete with map
View their friends information, including a full badge view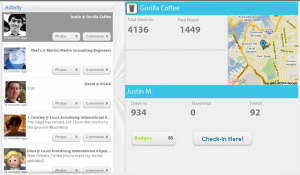 App Name:FourPlay
App Version:1.1.20
App Size:1967 KB
Cost:FREE
Filed Under: Social Networking Tags: AE, Coffee Set, Explore Screen Full, Theme Park Previous Post: Forum for BlackBerry
Next Post: Plurk