Get the latest MMA news, interviews, rumors and event info for the UFC, WEC, Strikeforce, Bellator, DREAM, Sengoku and other promotions from MMAjunkie.com, the 2008 and 2009 World Mixed Martial Arts Awards Best Media Outlet winner.
MMAjunkie.com, an official MMA partner site of Yahoo! Sports, provides your mobile device instant access to all our content, including onsite event reports, the latest MMA business dealings, and industryleading features on the top fighters and prospects in the sport today. You can also get uptotheminute scoring from live shows, rumored fight cards and past MMA event results.
Our staff includes editorinchief and founder Dann Stupp Dayton Daily News MMA beat writer, lead staff reporter John Morgan Dallas Morning News MMA blogger and 2009 World MMA Awards Journalist of the Year, staff reporter Steven Marrocco Vancouver Sun MMA contributor, Kyle Nagel Dayton Daily News sports reporter, Steve Sievert former Houston Chronicle MMA beat writer and medical columnist and combatsports specialist Dr. Johnny Benjamin.
MMAjunkie.com, which prides itself on accuracy and inside access, delivers aroundtheclock news from all corners of the MMA world.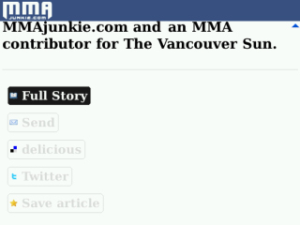 App Name:MMA Junkie Mobile
App Version:3.0.0
App Size:766 KB
Cost:FREE
Filed Under: Sports & Recreation Tags: DREAM, Johnny Benjamin, MMA, Steve Sievert Previous Post: Stony Brook GameTracker Mobile
Next Post: Colts Inside Slant