Now you can have all your travel needs at your finger tips with the new free Aer Lingus App. Whether its planning trips, checkingin or checking flight status, accessing your travel information on the go is more convenient than ever!
The Aer Lingus App allows you to:
· Checkin for Flights
· Search for Low Fares
· Check Flight Status Information
· View Flight Details
· Stay Uptodate with Travel Alerts
Checkin is currently available on selected flights.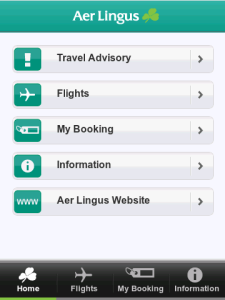 App Name:Aer Lingus
App Version:1.1.0
App Size:2984 KB
Cost:FREE
Filed Under: Travel and Weather Tags: Aer Lingus App Previous Post: woZZon: For whats on in the UK
Next Post: Madrid Traveler