The Air Canada BlackBerry App is your personal travel companion.
NOTE: Version 2.2 is only compatible with BlackBerry OS5 devices. If you click Download with an OS4 device you will download the latest OS 4 version v1.57.
WHATS NEW IN VERSION 2.2?
AIR CANADA VACATIONS MOBILE
Air Canada Vacations Mobile allows you to keep track of your vacation plans, hunt for deals, search for vacation packages and browse thousands of hotels across hundreds of destinations. Share what you find with friends or quick dial Air Canada Vacations to book your vacation!
DOWNLOAD FLIGHT SCHEDULE
You can now download the complete Air Canada schedule to your BlackBerry and search for flights while offline. Have access to over 470,000 flights across more than 175 destinations that Air Canada serves. Set your download preference and frequency in My Settings, Preferences.
FLIGHT NOTIFICATION PREFERENCES
You can now specify your default Flight Notification preference and automatically register to Flight Notification when you add a flight to My Flights.
FLIGHT LABELS AND FILTERING
Create custom labels to categorize your flights in My Flights.
ADDITIONAL FLIGHT INFORMATION
Weve added operating airline, flight distance and meal information where available on the Flight Details screen to give you even more information at your fingertips.
CODESHARE FLIGHTS
You can now search for Air Canada codeshare flights while online or offline. PLEASE NOTE that codeshare flight data is SCHEDULED FLIGHT DATA ONLY.
OVERVIEW
MY FLIGHTS
Keep track of all your Air Canada flights from a single location. Use your BlackBerry Menu button to refresh flight status, checkin or sign up to Flight Notification.
MY MESSAGES
A single location for all your Flight Notifications that you have registered to and links to your Electronic Boarding Passes as they become available.
CHECKIN
Access Air Canada Mobile Checkin to select your seat, retrieve your electronic boarding pass and more.
FIND FLIGHT
Find and track any Air Canada or Jazz flight by flight number or arrival and destination cities. Use your BlackBerry Menu button to add flights to My Flights, sign up to Flight Notification or Checkin.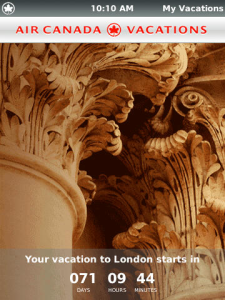 App Name:Air Canada
App Version:2.29.0
App Size:3654 KB
Cost:FREE
Filed Under: Travel and Weather Tags: Air Canada, Flight Details, Flight Notification, Flight Notifications Previous Post: Class Meteo – The Weather Channel
Next Post: Q-Park overzicht parkeerfaciliteiten NL