Experience Maximum Vegas download the official MGM Grand mobile app from MGM MIRAGE.
This interactive concierge app gives you onthego access to news, menus, directions, tickets, weather, special offers, advice, videos and more. With hundreds of dynamic content entries, the app is a great way to explore MGM Grand no matter where you are.
Features Include:
ROOMS, RESTAURANTS, SHOPS SHOWS
Want to book a room at The Signature or reserve a terrace suite at MGM Grand Hotel? Want to browse our restaurant menus, preview a show, check out a club or grab some last minute tickets? You can do it all from the app.
CONVENTIONS EVENTS
Convention attendees or wedding guests can see private, passkeyprotected content only accessible to registered attendees. They can access uptotheminute event schedules, programs and materials, speaker bios, breakout room agendas, convention maps and more.
ORDER ROOM SERVICE ANYWHERE
Order room service when youre still in the cab. Or playing blackjack. Or swimming. Well bring it to your room so that its waiting for you when you get back.
MAPS
Access overhead custom GPS maps or view detailed maps of the casino, theatres and shopping centers.
ACTIVITIES
Reserve some pampering time at the MGM Grand Spa and Health Club, browse services at Christophe Salon, call for VIP reservations to our ultra pool at Wet Republic and more.
GEOTARGETED CONTENT
Enjoy locationspecific content that changes depending on where you are. Unlock special offers once youre within a few miles of MGM Grand or actually at the hotel.
INAPP SEARCH
Use the embedded smartsearch bar to find content by keyword.
MY MGM GRAND
Whether you want to review the rules of baccarat, remember the number to the business center, or reread that bio of your favorite chef, you can save any page to create your own itinerary for your visit.
FOREIGN LANGUAGE SUPPORT
See information about MGM Grand in Spanish, French, German, Italian or Japanese under the Key Info tab.
FULL SERVICE DIRECTORY
Need to contact Lost Found? The Floral Shop? Limo Services? The app connects you instantly.
FEEDBACK SURVEYS
Let your voice be heard comment about the app and your experience at MGM Grand, or rate any of the featured services.
PLAYERS CLUB PRIMA ACCESS
Access MGM Grands unique Prima Privileges program, or log in to PlayersClub.com to earn rewards like tickets, dining and hotel stays all based on your Game play at MGM Grand and eleven other Las Vegas resorts and casinos.
TWITTER TELLAFRIEND INTEGRATION
Check out MGM Grands live Twitter feed right from the app, or send any page in the app to a friend.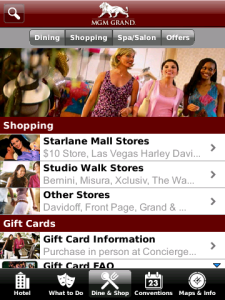 App Name:MGM Grand
App Version:1.5.309
App Size:3338 KB
Cost:FREE
Filed Under: Travel and Weather Tags: Christophe Salon, Limo Services, ROOMS, Wet Republic Previous Post: iTransitBuddy – Washington DC
Next Post: Montreal Travel Guide