Download this free city guide application from Quintessentially for expert insider knowledge of the worlds greatest cities.
Brought to you by Quintessentially the worlds leading private members club and global concierge service we are always on hand 24 hours a day, 365 days a year to let you know about the hottest restaurants, the most prestigious hotels and all manner of clubs, bars, spas, gyms, shops, markets and sightseeing spots across the world, Quintessentially is your key to the heart of any city. Each guide also features a wide range of irresistible offers, privileges and bespoke services that Quintessentially members can access around the globe all designed to save you time, hassle and money.
The content is free to all members and nonmembers, but the exclusive benefits, discounts and services offered by our partners are only available to Quintessentially members.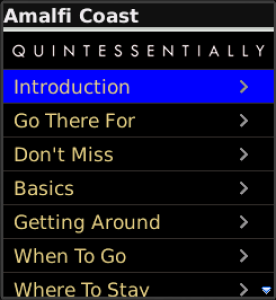 App Name:Quintessentially City Guides
App Version:1.5.0
App Size:1813 KB
Cost:FREE
Filed Under: Travel and Weather Previous Post: AccuWeather
Next Post: RMV Rhein-Main-Verkehrsverbund