Urbanesia is happy to bring Urbanesia Ramadhan as a guide at this Fasting Month. We provide fasting break schedules and most importantly places to break your fast in and around you.
Urbanesia Ramadhan is a launcher for our full featured Mobile Web where we will attempt to figure out where you are and give you recommendations either from our select choices or from users alike.
You can also find Promos and Events surrounding Ramadhan in Jakarta. The data is updated daily containing more and more choices for you.
A unique feature belonging only with Urbanesia Ramadhan is that you can plan your fasting break wherever you are even if youre on the road. Use Petunjuk Arah to get places to break your fast and also Mosques in and around the route you choose.
So whether youre on the road or not, were sure to keep you opted with choices.
Walaupun pada waktu buka puasa masih di jalan, kami akan selalu hadir memberikan rekomendasi!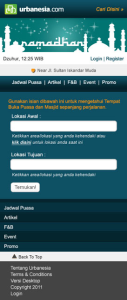 App Name:Urbanesia Ramadhan
App Version:1.0.0
App Size:18 KB
Cost:FREE
Filed Under: Travel and Weather Tags: Fasting Month, Mobile Web, Urbanesia Ramadhan, Use Petunjuk Arah Previous Post: Tourist
Next Post: ANWB