Accurate GPS app , it will show you where you are: your country, region, city and street directly, quick and accurate. It is useful when your are in a strange place and wonder know your exact position.
Case study: You could tell the person exact street info who are going to pick up you, or when you call somebody for help, you could tell him your location info with Where Am I.
Free in Limited Time!! If need to unlock full version for free, please kindly send us email with: Where am I and your PIN! Waiting for your nice reviews as well.
How to use:
It is very easy to use, every time, you want to know the position, just press the icon of Where am I and wait for 23 seconds, there will be a popup show your location info.
Guarantee satisfaction:
If you find a bug or have a feedback, kindly write an email to us, we can provide revision ASAP.
Be so kind and dont leave a malicious comment.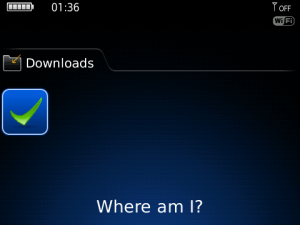 App Name:Where Am I – GPS app
App Version:1.0.0
App Size:25 KB
Cost:FREE
Filed Under: Travel and Weather Tags: ASAP Previous Post: MobiLearn Talking Phrasebook Trial: English French German Italian Spanish
Next Post: Meru Cabs