New 2.02 release works for all OS versions! Support one click or one key press to reboot immediately! Corporate device friendly no advertisement data traffic recorded on your corporate messaging gateway.
This is the only reboot app that guarantees working on all BlackBerry devices, with best performance. Completely reboots the BlackBerry phone like a battery pull; it can also be used to check memory usage. You can either reboot manually or automatically by setting a schedule. It also logs the reboot history and memory usage at the reboot time. Put the one click reset button right next to you power off icon for easy access; or even set a sidekey as shortcut to press one key to reset immediately!
Support OS version 4.2.1 to 5.0 or newer. Downloading the free trial now to have confidence before you pay. Paid version can be found in the AppWorld by searching Reset.
Features:
One click/ one key press to reboot BlackBerry phones immediately
Automatically reboot by setting a schedule
Check memory usage
Logs the reboot events and memory usage at the reboot time
Fast customer support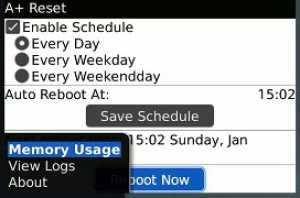 App Name:A plus Reset
App Version:2.4.0
App Size:114 KB
Cost:US$2.99 USD
Filed Under: Utilities Apps Tags: OS Previous Post: BeInfo
Next Post: Screen Helper