Auto Keylock is an utility tool that helps you to lock your keypad without pressing any key.
With AutoKeylock, you do not require to press key to lock your keypad!
Of course, Auto Keylock provides you with a time lock setting to allow you to customize your custom time to lock keypad.
Features:
1 Makes your BlackBerry AUTOMATICALLY Lock Keypad.
2 Time Lock Setting is available
3 Automatically starts up when your BlackBerry is switched on.
4 Runs completely in the background.
4 Makes you more convenient and does not affect your BlackBerry processing
7 Easy installation
8 No additional hardware needed.
9 Low memory consumption.
For BlackBerry Storm and BlackBerry Storm2, please follow the below instructions to disable the compatibility mode to ensure the application display properly.
1. Go to Options
2. Go to Advanced Options
3. Go to Applications
4. Select the Auto Keylock
5. Press the menu button on your device
6. Click on Disable Compatibility Mode
7. Restart your device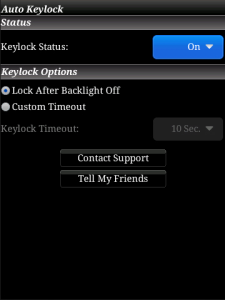 App Name:Auto Keylock – Automatically Lock Device after Screen Blacklight Off to Prevent Accidental Key Press or Call
App Version:1.0.0
App Size:51 KB
Cost:US$0.99 USD
Filed Under: Utilities Apps Tags: Advanced Options, Auto Keylock, Disable Compatibility Mode, Time Lock Setting Previous Post: My File Manager
Next Post: Hitung Pasaran