When you are away from the home or office, Boingo is your passport to blazing fast Internet access at more than 100,000 hotspots worldwide. With the Boingo app and a Boingo Mobile account you can enjoy WiFi at hotels, airports and conference centers, and even around town at popular hotspots like Starbucks and McDonald?s.
Upload photos, download music, stream video, check out that presentation before the big meeting, or just surf the web ? at speeds up to three times faster than 3G!
Enjoy Boingo on popular BlackBerry WiFi enabled smartphones including: 8320, 8350i, 8900, 9000, 9550 Storm2 , and 9700.
Getting Boingo is simple:
1. Download the FREE Boingo app in the BlackBerry App World? directly to your device, then
2. Sign up for Boingo Mobile for only $7.95 USD per month at mobile.boingo.com
Don?t just go. Boingo!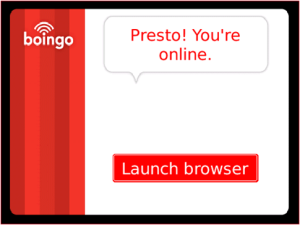 App Name:Boingo Wi-Fi
App Version:1.0.0
App Size:304 KB
Cost:FREE
Filed Under: Utilities Apps Tags: Boingo Mobile, Enjoy Boingo, Getting Boingo Previous Post: Hong Kong Junk Call Blocker
Next Post: MyM1