Easy Counter is a handy application to count whatever you want: items, days, events, people etc. Features:
Adds and subtracts the following values IN ONE CLICK: 2, 1.5, 1, 0.5, +0.5, +1, +1.5, +2.
Clickable display with increment +1.
Counts up and down; counts negative numbers.
Shows the last operation.
Resets to zero.
Resulting values range: 999 to +999.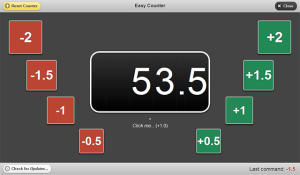 App Name:Easy Counter
App Version:1.2.1
App Size:136 KB
Cost:FREE
Filed Under: Utilities Apps Tags: Easy Counter Previous Post: Mobile Presenter
Next Post: SimplyCollect