This application serves as a portable event guide for SingTel FMCC 2011. It is a useful and hasslefree way for delegates to view details on conference, speakers exhibitors. It also allows you to post any questions that you might have at the Keynote and Track Discussions. In addition, delegates can express interest in any solutions at the exhibitor booths by simply having your QR codes on your badges scanned. More information on these solutions will be sent to the delegate and a SingTel Account Manager will also followup shortly. Sponsors can also use this application as a platform for event marketing.
Unleash the Power of Fixed Mobile Cloud Convergence FMCC is the first conference in the region to provide unparalleled levels of insights on latest benefits of converged fixed voice and data, mobile and cloud technologies. Empowering businesses to drive business success with intelligent Information Communications Technology ICT services, on demand and on the move.
This application has been built using Web Spiders event2mobile framework.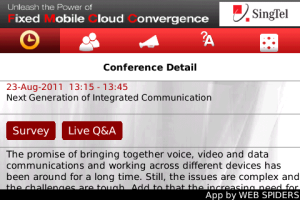 App Name:FMCC SingTel
App Version:1.1.0
App Size:809 KB
Cost:FREE
Filed Under: Utilities Apps Tags: QR, Web Spiders Previous Post: Home Improvement Calculator
Next Post: Battery Booster Free – Boost your Battery Performance