France IME for BlackBerry PlayBook is powerful for you to input France characters , words.
It can also speed up typing of English.
please note
the app is stand alone program , you need paste the output to target app.
tips: its easy to switch the app by swiping the edge of the device.
Full version feature:
1 easy to type. big soft keyboard , native layout . typing sound and animate enable.
2 easy to select. with smart characters recording, it will show the most used words at the top of the list.
3 easy to share. support one key copy , just paste the word or sentence to anywhere you want.
4 easy to setup new words. build your new words freely while typing.
There are four areas in the main screen.
output area is at the top ,
input area and selection area in the middle ,
the soft keyboard area is at the bottom.
How to setup new words:
1 make the new words available in the output area and selected.
2 type the abbreviation in the input area.
3 click the save button.
now ,retype the abbreviation will get the saved words.
Tips:
1 only the selected text of output area will be saved . otherwise , the full content will be stored.
2 best to backup your own new words at this time, the import function will be updated in future.
3 Input number and punctuation , just popup the native soft keyboard of the device by focus the Output area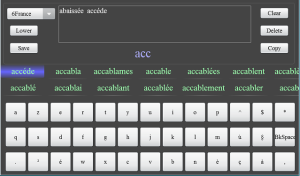 App Name:France IME
App Version:1.0.0.5
App Size:4397 KB
Cost:US$2.99 USD
Filed Under: Utilities Apps Tags: France Previous Post: Pocket Conversions
Next Post: PowerGanaka