You plan to make or get a new website. The Homepage Checklist will support you with the whole process of decision making, creating and testing your website.
With our Checklists youll never forget anything anymore. Get things done, save time and nerves, be prepared for everything!
Features
Create your very own individual lists
Save multiple different lists
Choose from our suggested list entries and add your own entries
See your progress immediately with the background bar
Compare your progress of different saved lists in the My Lists menu
Create your own categories, you can even have identical entries in different categories
Easy and quick access to your last used lists via the start screen
Change name and category of existing entries
Name your individual lists
This app requires an SDCard. We strongly recommend using original SDcards by SanDisk since others might be a lot slower.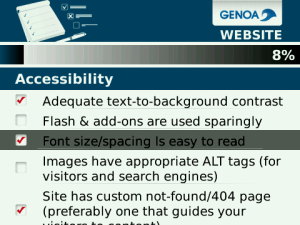 App Name:Homepage Checklist
App Version:1.0.381
App Size:318 KB
Cost:US$1.99 USD
Filed Under: Utilities Apps Tags: Homepage Checklist Previous Post: Accurate Corrosion Toolbox
Next Post: Mini Email