An arithemetic training program designed for children aged 5 to
12; a simple yet elegant GUI. Flexible settings enable you easily to adjust the level
of difficulty. The verification code 0307 MUST be entered in Settings to
provide parental control.
Visit the supporting site: android.entrepidea.com for a tutorial and more.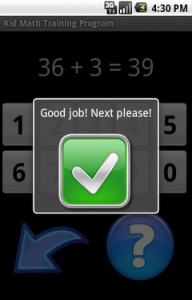 App Name:Kid Math Training Program
App Version:1.0.0
App Size:378 KB
Cost:FREE
Filed Under: Utilities Apps Tags: GUI Previous Post: Almere Uitgifte
Next Post: Lock for Facebook – Password protect your Facebook app