Finally there is a more comfortable way to lock and unlock you BlackBerry. Increase the productivity of your phone with this lock application.
LockPlus is the most useful, most functional and best looking lock application for the BlackBerry. LockPlus works with all BlackBerry OS releases / phones higher than OS version 4.1 including 5.0 and 6.0 and OS 7
Now with a new orientation lock function beta for all phones with touch screen: Lock and unlock your phone by flipping it face down and then face up
This trail version of LockPlus can be used free of charge for two weeks.
LockPlus Features:
Prevents pocket dialing by offering automatic lock after as little as 15 seconds BlackBerry standard lock 60 seconds
Prevents unwanted emergency calls by protecting the emergency call function better when phone lock is enabled. Still emergency calls 911/112 are possible when locked.
Makes unlocking the BlackBerry much easier. Instead of pressing multiple keys or having to enter a password you just have to click and hold one key to disable lock. One touchscreen phones you can unlock the phone with a swipe of a finger.
You can assign the LockPlus application to a convenience key so you can lock your phone via the click of a button
Ideal for users of a BlackBerry with a corporate policy that prevents disabling the password / lock timeout. Just set the password / lock timeout to the maximum typically 20min and activate LockPlus. This helps to avoid frequent password entries to disable phone lock and unwanted calls without causing a security risk.
The lock screen of LockPlus does not cover the current application. Ideal if you want to keep seeing an application e.g. Navigation with Google Maps, Watching Videos while phone is locked. You do not have to keep unlocking you phone again and again
You can define NeverLock applications. Automatic lock is disabled when they are in foreground
You can define different backlight configurations for different applications applications can have backlight timeouts of up to 10 minutes
LockPlus is very easy to use and to configure
LockPlus runs unnoticed in the background and can be configured to autostart when switching on your phone
LockPlus automatically disable lock of your phone on incoming calls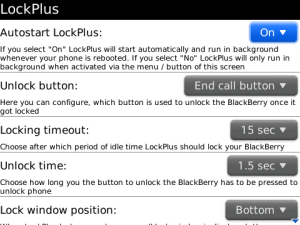 App Name:LockPlus – Lock your phone in style – Swipe to unlock – Now with orientation lock on touch enabled phones
App Version:2.201.0
App Size:309 KB
Cost:US$2.99 USD
Filed Under: Utilities Apps Tags: Google Maps, OS, Watching Videos Previous Post: ClickAstro Panchang
Next Post: Sleep Cycles App Alarm