Get the Top Rated, Best Selling, and Most Advanced Memory RAM Booster by Recovering Wasted Memory for Your BlackBerry!
One click to boost mobile RAM capacity and fix system crashes.
MemoryUp Pro is a powerful Mobile RAM boosting tool and Java virtual machine JVM management application specially designed for BlackBerry users. It is a handy memory optimizer tool that can keep your BlackBerry running faster and efficiently. It increases your BlackBerry performance by making more memory available for both your applications and the mobile system.
Product Features
Realtime Smartphone Memory Status Report Monitor
MemoryUp Pro gives you a professional and easytoread status report on your smartphones memory usage.
Setting Your Performance Target
Using MemoryUp Pros setting function, you can boost phones by setting performance goal fitting your profile.
Oneclick Quick Boosting
In addition to monitoring and reclaiming your phones memory automatically, this Mobile RAM Booster also allows you to boost your memory manually.
Autoboosting in the Background
With this feature, MemoryUp Pro can run in the background to automatically reclaim unused memory on your Smartphone.
Smartphone Crash Protection
MemoryUp Pro warns you when your memory reaches a critical point, and allows you to quit the running applications safely before your smartphone becomes unstable.
And There is More..
Other features include Warning/Autorecovering RAM when it goes under your preset value, Startup boost, advanced boost cell features for professional smartphone users, and multiple language support English, German, Italian and Spanish.
Fully optimized for BlackBerry OS 3.X, 4.X, 5.0, 6.0 7.0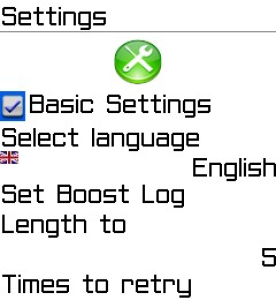 App Name:MemoryUp Pro
App Version:3.9.0
App Size:127 KB
Cost:US$8.99 USD
Filed Under: Utilities Apps Tags: Best Selling, JVM, Oneclick Quick Boosting, Smartphone Crash Protection Previous Post: Battery Saver Pro – Battery Saver
Next Post: TiltOff – Stop Screen Rotation